Rotation-Elevate-System
Our roation-elevate-system has all important compontents (ball bearing ring with slewing engine, distributor, hydraulic hoses and the lifting up cylinder) inside mounted. This leads to an optimal protected solution, equipped with a service cover and a simple and servcie friendly usage.
This system reduces the possibility of damages, is stronger with very compact dimensions.
Compressive lifting cylinder
Not only does this compressive lifting cylinder need fewer litres of oil, it also achieves higher speeds, reduces oil warming, weighs less and has better handling characteristics. We are the only crane manufacturer to offer this benefit!
More information under "FAQ"
Telescopic system with rope
The rope extension system achieves higher speeds, runs more quietly and requires less maintenance. STEPA has used the tried-and-tested telescopic system both for agricultural and forestry use for over 20 years.
Combination joystick & radio remote control - work optimally
A combination of joystick and radio remote control, a proportionally piloted joystick control with 2 pedals and 2 joysticks or an electric joystick control without pedals - STEPA offers control variants for every price class and purpose.
90 l hydraulic tank
The large hydraulic oil tank is constructed to minimise use of space and also delays oil heating.
2 LED headlamps (more light, less heat)
Two high-quality LED headlamps not only provide a better cone of light, they also use less electricity and produce little heat.
Result: More light for less electricity and heat, as well as higher quality - comes as standard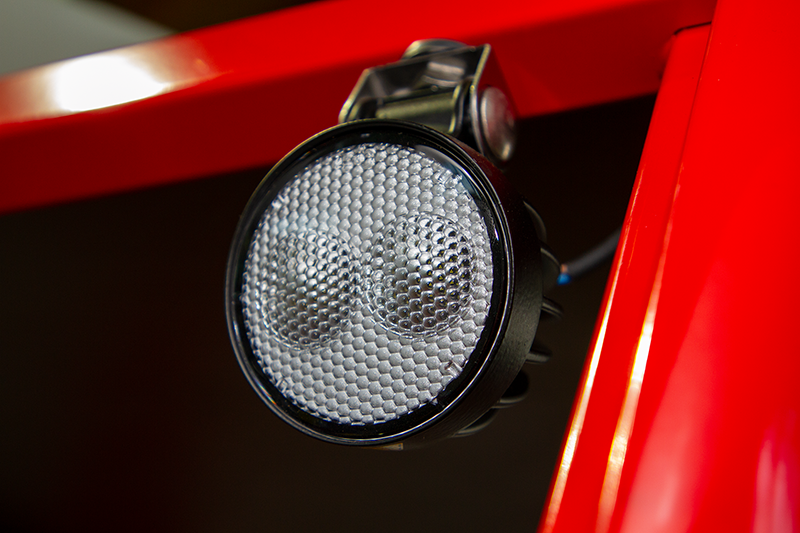 Glass floor and centrally arrange foot pedals with ball bearings
The toughened glass floor and the centrally arranged foot pedals allow a better overview downwards. Thanks to the ball bearings, the foot pedals can be operated easily and precisely.
Document compartment
A handy compartment for necessary documents.
High-strength S700 steel
High-strength steel by VOEST for STEPA, stands out for its high quality. The material is significantly stronger and more durable as seams are minimised.
Durable Vulkollan drive wheel instead of rubber wheel
A high-strength Vulkollan drive wheel has significantly lower wear than standard rubber wheels. This reduces maintenance costs.
More information under "FAQ"
Standard-compliant access & sound insulation in the cab roof
You can access all STEPA overhead slewing cranes by pushing back the bar. As such, the crane can be exited in an emergency regardless of its position. Sound insulation is installed in the cab roof, which significantly reduces noise and increases driving comfort.
3D construction of all component parts
The construction of STEPA cranes is based on our decades of experience and supported by the use of the most advanced computer programs.
FEM calculation
STEPA cranes are developed and improved on the computer with calculations using the finite element method.