Compact with high speed
The triple telescopic system is STEPA´s best selling arm system and impresses with its high retraction and extension speeds. All extension booms are extended with just one cylinder. This means that distances of up to 13m can be reached.
Specifications
very high retraction and extension speeds
short design with a small turning radius
high driving comfort thanks to synchronous control
optimal price-performance ratio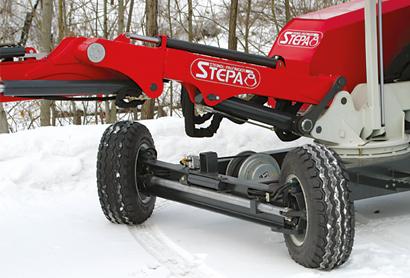 Different lifting booms can be selected depending on the space available in the hay barn. The compressive lifting cylinder with the POWER LINK system provides a consistent torque and constant speed throughout the lifting boom's entire movement range. In special cases, STEPA also provides telescopic lifting booms with an extension of up to 80cm. This means that low obstacles can be overcome or a higher haystack reached.
Specifications
POWER LINK system
Optimum geometry using compressive lifting cylinder
Fine grain S700 steel