Protected internal hoses
In all of STEPA's double telescopic forestry cranes, the hoses are internally routed in the arm system, providing great protection against damage. This means that work can be carried out safely, minimising the risk of damaging the hoses on the knuckle boom with machinery.
EPSLINK link
EPSILON's patented link-rotator-combination with internally routed hoses provides maximum protection during work for hoses between the crane and the grapple.
Robust & protected flap-down stabiliser with non-return valve
STEPA's flap-down stabiliser is stronger and better protected due to its closed-body design. The ideal design of the flap reduces the pivot radius and provides a short support with a large reach.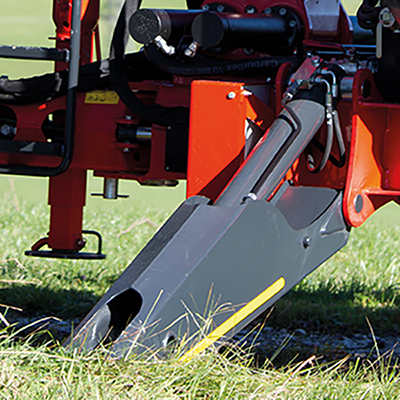 Cathodic dip-painting & powder coating
All main components in STEPA forestry cranes & forestry trailers are cathodic dip-painted and powder coated. This high-quality type of paintwork guarantees that STEPA products will still look good after years of use and helps keep the resale value high.
Bronze bushings
Important bearing positions are executed with high-quality bronze bushings. Lubrication channels enable ideal distribution of grease. Long service life guaranteed!
Z crane articulation
The articulation between the crane column and the main boom assures the main boom's constant working speed throughout the entire movement range. The lifting capacity in the upper boom settings is also up to 60% greater than in cranes without articulation.
L crane knuckle boom
The articulation between the main boom and the knuckle boom assures the main boom's constant speed over the entire movement range.
Slewing ring
The slewing ring from the truck loader crane and the building industry is put to good use in all STEPA tractor cranes and small forestry cranes due to its low tare weight and small space requirements.
Safety equipment
All STEPA cranes are fitted as standard with an emergency stop switch, hose breakage throttles, seat stop switch, safety non-return valve on the stabiliser, a convenient and safe step with non-slip entrance, a large control station and much more. As such, the STEPA cranes are among the safest in the industry.
Log grapple
All STEPA log grapples have large bearings and sophisticated grapple geometry. They are available in three sizes.